Encryption Decoding Devices and Dynamic Ignitors


- USB Drives and lighter shells
Each Custom USB Drive is a highly detailed piece and each is a unique "one off" design. They are named individually reflecting the core design theme that provided the inspiration for their creation. So it follows with inspiration coming from writers such as Jules Verne that the devices have names like The Nautiliod, The Babbage Rocket and The Corvette.


Each USB encryption encoding device embodies the power of steam, that is, how would modern day devices appear as Victorian Technology? Perhaps packed with tiny cogs, pipes and valves all in machines driven by steam and electricity?

Made to exacting standards from brass and copper, each individual piece is made entirely by hand, the highly crafted components are then skilfully combined to make each device. Taking a least 30 hours to produce, each piece has a removable base section that reveals a Emtec Firefly USB thumb drive connector for PC's and other devices.
Drive that can be upgraded to any specification.

All these pieces are sold boxed in their own lined carved wooden case reminiscent of something you may discover tucked away in an elderly relatives attic.


Prices vary on complexity. I also custom make these to your desired design style on commision.
Click on any of the six items below to go to their page and view larger images, from various angles


The Plasma Drive The Nautiloid The Babbage rocket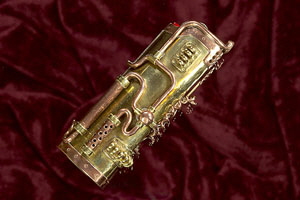 The Babbage Express The Corvette Dynamic Ignitor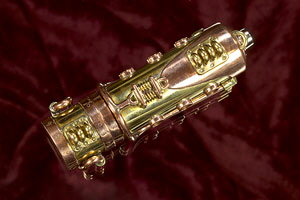 The Babbage Dreadnaught